This posting is my contribution to the William Wyler blogathon at R.D. Finch's blog The Movie Projector, running from June 24 to 29. Please do visit and take a look at the other postings, which are covering the whole of Wyler's career and a lot of great movies.
 There have been many film and TV adaptations of Wuthering Heights over the years. But I think it's true to say that the first one most people think of is still William Wyler's black-and-white classic from the great Hollywood year of  1939, starring Laurence Olivier and Merle Oberon. This adaptation is not especially faithful to the book, and indeed cuts out the whole second generation, who take up nearly half the novel. However, its wild, rain-lashed melodrama does come close to the spirit of Emily Brontë's troubling masterpiece, and is something which modern versions, even if closer to the book on the surface, struggle to match.
Wuthering Heights is a great Gothic novel, but the film version starts with more of a flavour of Gothic horror movies, as the new tenant Lockwood (Miles Mander) makes the mistake of reaching a crumbling mansion in the middle of a storm. He then has to stay the night in the bridal chamber, which hasn't been used for years, and which has a broken window for the wind and rain to whirl in through. All this would of course have been fresher and less clichéd in the 1930s than it is now, but, in any case, Alfred Newman's music and Greg Toland's amazing moody cinematography build the tension to fever pitch before Cathy's ghost is heard wailing in the distance, followed by the unforgettable scene of Laurence Olivier as Heathcliff reaching out of the window in hopeless pursuit of a ghost, crying out: "Cathy! Come to me, oh do, once more!" This is one of the film's key scenes, along with the moment where Merle Oberon, as Cathy, confesses: "Nelly, I am Heathcliff".  It seems the most passionate moments in this movie  come when the lovers are apart – and yearning for what they have thrown away.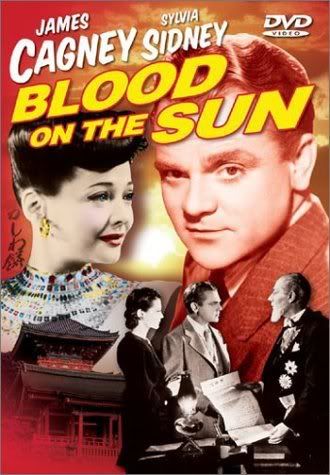 I've now seen several films with James Cagney as a journalist, but this is my least favourite on this theme. In this movie he plays a crusading editor
with an American newspaper based in Tokyo. I have to say I thought this was pretty bad – rather like a cut-price copy of Casablanca – and really only
worth watching if you are interested in either Cagney or the female lead,  Sylvia Sidney.
The plot centres on a plot by the fiendish Baron Tanaka for Japan to invade Manchuria as a first step towards world domination. When fearless newspaper
editor Nick Condon (Cagney) prints a story about the plot, and attempts to get a document detailing the conspiracy to the West, the results are explosive. He discovers a double murder, finds himself thrown in jail, and also begins a romance with the mysterious half-Chinese Iris Hilliard (Sidney  in a black wig), whose motives are unclear and possibly sinister.
Although the movie is supposedly set in 1927, it is very much wartime propaganda, not surprisingly – Tanaka is described as a "Japanese Hitler".
Most of the Japanese characters are extremely unsympathetic, though there is one heroic Japanese character who stands up against the government , even though it seems clear he is condemning himself to death by doing so, and says in a line near the end: "I do it for my country, not yours."  All the Japanese characters are played by white or half-Chinese actors, and Tokyo has been created on a Hollywood backlot. Having said that, some of the sets are quite impressive, especially the dark lanes by the docks used in some chase sequences near the end – they have a Dickensian feeling to them.
I'm afraid I didn't think there was much chemistry between Cagney and Sidney at all – Bogart and Bergman, they ain't. The fight sequences with Cagney as a supposed ju-jitsu maestro are also a bit lame, though as a fan it pains me to say so,  and it is quite hard to believe in him beating off half a dozen attackers at a time single-handed! However, I enjoyed seeing him speak both Japanese and Chinese in the course of the film. I'd like to know just how many languages he speaks during his film career.
I bought this movie on a Laserlight DVD which claims to be a "double feature", also including a movie about Cagney's career. Unfortunately this was  not such a bargain as I'd hoped. In the main film, the reproduction is very bad, grey and out of focus, and there is also an obtrusive "Delta" logo cropping up at key moments – I'm used to logos on satellite television, but find them a pain when I've actually paid for a copy of the movie! As for the Cagney retrospective, it is basically just the trailers for some of his Warner
movies cobbled together with a breathless voiceover about his acting career and a couple of amusing anecdotes about rows with Jack Warner. I wouldn't bother to buy any more Laserlight DVDs on this showing, unless they are the only way of getting hold of a must-see movie.